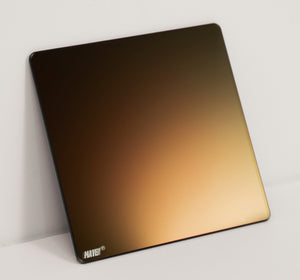 Limited Quantity Available - When they are gone they are GONE!
This one of a kind filter was the one that started it all, the MAVEN 10 Stop Square, code named Banshee, and there is a reason we won't be able to restock this particular model. 

It took 6 months of working with the manufacturer to define a system to measure what high color performance was, and this was the first Maven filter to Break the Tier 1 Barrier. Tier 1 color performance of an ND filter means you can lock your white balance, add the filter, adjust your exposure and not be able to visually see any difference in color performance. The vast majority of 10 Stop filters require you to readjust your white balance after ever ND filter change. Not so with the Banshee. Its distinct GOLD color also inspired Michael to color code his filter systems which led to the creation of the complete Maven Filter Line.
Unfortunately, the manufacturing company Michael was working with lost a few of their key technicians who mastered this making process, and have been unable to reproduce the results of the Gold Look with the Tier 1 Color performance. (And they have tried many times). So when the last unit of these sell, that will be it for this Gold Version model of the Maven 10 Stop Filter.

Comes with a 30 day 100% Money Back Guarantee, Life Time Replacement for Manufacturing Defects (If available), as well as Michael's Anti-Theft Promise*.

*Michael's Anti-Theft Promise: If your filter is stolen, Michael The Maven will replace it one time, at no charge to you. All you need is an original proof of purchase, and filing a police report listing the theft. It's bad enough to have your gear stolen, Michael will be happy to replace it in the event it unfortunately happens.