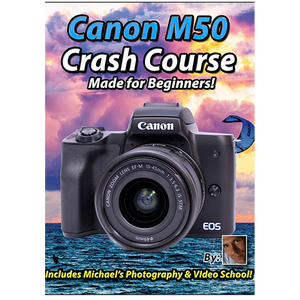 Award winning instructor, camera guru & professional wedding photographer Michael Andrew takes us on a step-by-step tour of the Canon M50 in this training tutorial download video. Michael Andrew's unique approach simplifies digital photography and shows students how to use simple techniques to take amazing photographs. Michael blends technical competence with artistic fundamentals in this truly unique training video.

If you own a Canon M50 and are looking to improve your photographic skills or aren't exactly sure how everything works….this is the training for you!

Run time is approximately 5 Hours and 30 minutes.

Included Lessons- Michael's FULL Photography School Video Training!:
Digital Photography Crash Course, including:
Exposure Lesson
Shutter Speed Lessons
Aperture Lessons
Depth of Field Lessons
ISO
Complete Composition Lessons- 11 in all
Digital Greenhouse
Compression
Encryption
Histograms
Lens Crash Course
What to do if not enough light
Lighting Crash Course.
Portrait Crash course
Sensor Cleaning
Free Access to Michaels Online video lessons and homework, including updates.
Canon M50 Photography & Video Shooting Tutorial Lessons
Additional Menu Items
Shooting Guide Summary
Sports
Sunset Shooting
Portrait Crash Course
Intervalometer Shooting
Strobes
Flash Settings
Intro To Strobes
3 Rules of Lighting
Film History
Film Like Look
Two Microphones, One Jack
Pulling Focus
Manual Foucs In Empty Spots
Gimbals
Gimbal Examples
Fluid Heads
Hollywood Scene Exmple
Removing Background Noise
Sliders
Video Workflow
Cleaning The Sensor
Outro

And More!
Watch Michael's Free Canon M50 Video Here: