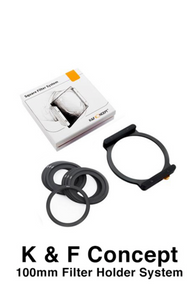 • Designed for 100mm Wide (Z) Filters
• Filter holder is made with aluminum, allowing for creative use of light correction or special effects. Simply slide in 2 different filters to take beautiful, colorful shots, including long exposures and grad filters.
• There are 7 filter ring adapters, included 52mm/ 58mm/ 62mm/67mm/ 72mm/ 77mm/ 82mm, allows you use nd filters on these size filter threads.