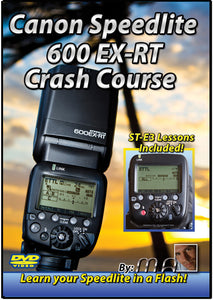 Award winning instructor and professional wedding photographer Michael Andrew tackles one of the most challenging aspects of photography, Speedlite Flash Systems. In this limited edition Crash Course, Michael breaks down the Canon 600 EX-RTI Speedlite in easy to understand concepts and lessons that will have you using your flash like a pro in just a few hours! Even advanced Flash users will benefit greatly from the concepts and techniques outlined.

First Michael gives you a Crash Course on Lighting, the Physics of Light and the Mechanics of Cameras. Next, he shows us how to use the Speedlite in different situations and how to manipulate it, as well as your camera settings to get the results you've always wanted. Finally, in "Putting it all Together" Michael demonstrates a combination of the techniques and variables used according to the situation.

If you own a Canon 600EX-RT Speedlite and are looking to improve your photographic skills or aren't exactly sure how everything works…. this is the training video for you!

Run time is approximately 4 Hours.

Included Lessons- Michael's Lighting Crash Course!:

Introduction
Exposure and Flash
The Types of Light
Light Crash Course
Michael's Natural Lighting Tips
Long Exposure Shooting
Artificial Light Variables
Changing Flash Power
Fill Flash with Backlight
Bounce Flash
F Stop Increments
Inverse Law of Light
Bracketing
To Point or Not to Point
4 Way Light Crash Course
ETTL, TTL and Manual Flash
Light Modifiers
1st and 2nd Curtains
Clipped Exposures
High Speed Sync Concepts
Slow Sync
1st and 2nd Curtain Flash
Flash Event Sequence
Modes & Flash
Michael's Mode Recommendations
Clipped Exposures
The 3 Rules
Canon Speedlite 600EX-Rt Specific Lessons
Set Up
Quick LCD Review
Speedlite Buttons
Accessories
Make your own fill card
High Speed Sync
Second Shutter Curtain
Manual Flash
Distance Exercise
The Flare Effect
Stroboscopic
Tips and Tricks
600 Custom Function Set Ups
ISO Exposure Compensation
Manual External Metering
Off Camera Flash
Basic Wireless Setups
ST-E3 Set Ups
Pocket Wizard Set Ups
Advanced Wireless Settings
Speedlite Quiz
Putting It All Together
Soft Fill
Slow Sync with One Speedlite
Changing Variables
Sun Light Shooting
Advanced - Sunset Shooting
And much, much more!!