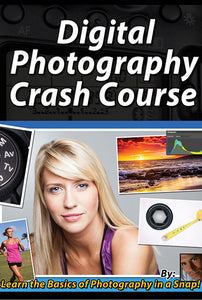 Michael Andrew, an award winning instructor and professional wedding photographer, introduces us to the amazing world of digital photography.This is the 2020 version of his basic photography course for shooters with all cameras. If you have a DSLR, please purchase that course, as the photography school is included on all our DSLR crash courses.

Michael's unique approach simplifies digital photography and shows students to take amazing photographs, even if they are just beginners. This training video is a must have for anyone interested in improving their digital photography skills!

Run time is approximately 133 minutes.

Lessons Include:

All lessons on basic photography including:
Exposure
Aperture Lessons
Shutter speed Lesssons
Depth of field
Modes and Settings Tips for beginners
ISO ratings
White balance
Metering
SLRs vs point and shoots
Focal Length
Complete Composition Lessons (11 in all)
Encryption
Compression
Histograms
Lens Crash Course
Portrait Crash course
Lighting Crash Course
The Digital Greenhouse Lesson
The Scientific Method of Photography
What to do if you don't have enough light
and more from Michael Andrew!
Get started on taking better photographs today!