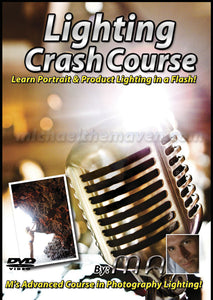 Nearly 4 years in the making, Michael's Lighting Crash Course is designed to teach you the fundamentals of Light, as well as to arm you with an arsenal of lighting tools, concepts, techniques, principles, and setups. This is video apples to all camera users weather you use Nikon, Canon, Sony etc.
Michael's training videos regularly receive the highest ratings by students because he is able to take complex subject matter and explain it in a simple, easy to understand way. The Lighting Crash Course meticulously breaks down the mysteries of light, and will give photographers incredible skills and tools to light their compositions correctly.
Run time is approximately 3 Hours and 45 minutes.
Included Lessons
Module 1: What is Light?
1. Intro
2. What Is Light?
3. Family of Angles
4. Its In The Eyes
5. How Polarization Works
6. What Is White Balance?
7. Golden Hour
8. Water Color
9. Quality of Light
10. Light Observations
Module 2: Basic Light Control
11. 2 Types of Light
12. Inverse Law of Light
13. The 3 Control Rules
Module 3: Light Tools & Techniques
14. Light Meters, Incident vs Reflected Light
15. Camera as a Light Meter
16. Box Exercise
17. Planar Lighting Technique
18. Planar Lighting Rules
19. Simple Planar Lighting
Module 4: Indoor/Studio Shooting
20. Studio Tour
21. Studio Lighting Gear
22. Setting Up Strobe Triggers
23. ETTL Triggers for Studio Strobes
24. 4 Way Lighting Set Up
25. Ratios
26. High Key Crash Course
27. High Key Clean Up In Photoshop
27. One Strobe High Key
28. Light Modifiers
29. Short and Broad Lighting
30. Butterfly Lighting
31. Clam Shell Lighting
32. Group Shooting
33. Shooting Subject With Glasses
Module 5: Product Shooting
34. Product Lighting Crash Course
35. Mini Photo Tent
36. Shooting Reflective Objects
37. Jewelry Box
38. Dark,Smooth,Round Objects
39. Shooting Glass with Black Background
40. Shooting Glass with Gap
41. Shooting Glass with White Background
42. Shooting Glass with Liquid
Module 6: Natural and Reflected Lighting
43. Complete Shade
44. Backlight Shooting
45. As The Eye Sees
46. Shadow Play
47. Advanced Planar Lighting
48. Trouble Shooting Sunset Shoot
49. Quiz
50. Outro